Las Vegas a Gamble for Profits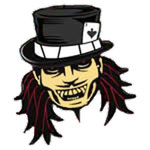 The 2019 offseason was a busy one for the Las Vegas Gamblers. Despite reaching the playoffs for the second year in a row, and breaking .500 for the first time in three seasons, GM David Morfeld knew that the team needed more if it would have any hopes of challenging the league's top teams.
Step 1 had to be towards overcoming some of the shortfalls with budget. Despite having above average attendance numbers, the current arena that was built in 1983 just couldn't support a fan base looking to grow. An arena proposal was completed, submitted, and approved for 2021 completion.
A new arena alone wasn't going to be enough to make an increased budget appear. For that reason, Morfeld knew he had to field a competitive team, capable of winning big games that could attract enough fans to fill that arena once construction is completed. Through a rush of transactions, the Gamblers carried over only 3 players from a season ago – Talacka, Deletombe, and Kramer. The starting five now includes Chad Nolan, Justus Rhodes and Vester Friedrich. There was no way to know how compatible this group would be. To make such changes was…a gamble. "You have to know when to hold em, and know when to fold em" Morfeld was quoted as saying. There wasn't much holding this offseason.
Just over 20 games into this season, the gamble appears to be paying off. Currently sitting at 16-6, the starting 5 are really meshing well. All seem to be filling a role, while none are distancing themselves as a true superstar. Second year power forward Benjamin Deletombe has improved from his strong rookie campaign to average 20.5 PPG, 9 RPG, 3.1 APG and 1.6 BPG. Despite being the least experienced in the lineup, Deletombe has proven to be a major piece of the success. New addition Vester Friedrich has proven to be a great floor general and is putting up the best numbers of his career.
While lots of basketball has yet to be played in the 2019 season, GM Morfeld has to be pleased with the results so far. Profit numbers are heading in the right direction as attendance approaches 100%. Most noticeably, the team is having fun and cohesion is improving for a group with only 22 games together. Upcoming games against the Rage and Fighting Cocks will prove to be true measurements to identify what this team is really capable of accomplishing. Without star SG Almantas Talacka during those games will not make things any easier.
Only time will tell what this team will be…Blackjack or bust.